1933
Born in November 23rd, in a village near Sabzevar called "Kahak"
1940
Attending "Ebne Yamin" primary school


1946
Attending "Ferdowsi" High School in Mashhad
1948
Joins the Society of Propagating Islamic Truth
1950
Enrolls in Mashhad's Primary Teachers' College
1952
Graduates from Teachers' College and hired in the Mashhad's Cultural Burea
Founded the Student Islamic Society
Participated in demonstrations against Ghavam's appointment and got arrested for a short time.


1953
Joined the National Resistance Movement (NRM)
1954
Received his Literature Diploma
Published his translation of "Great Moral Examples in Behamdoon" by Kashefol-Qata
1955
Published "Aba-Dhar Ghaffari" and "History of Philosophy's Evolution"
Enroles in Department of Literature in Mashhad University
1957
Got arrested among 16 other members of NRM in Mashhad


1958
Graduated from Department of Literature in Mashhad University with first honor.
Married one of his classmates "BiBi Fatemeh Shariat Razavi"
1959
Got government scholorship and sent to France to continue his education
His first child - Ehson - is borned
Joined the Algerian Liberation Movement (ALB)
1960
His wife and son joined him in France
Got captured in Paris for his involvement in ALB
1961
Cooperated with the Iranian Students Confederation, National Front, Liberation Movement and editoring in "Iran e Azad" magazine.


1962
His mother passed away
His second child - Sousan - is borned
Was introduced to Frantz Fanon opinons and thoughts by his book "Inferals of the Earth"
Met Jean Paul Sartre
1963
His third child - Sara - was borned
Graduated with Doctorate degree in Hisotry with a minor in Sociology
1964
Returned to Iran and was arrested at the border and transferred to Ghezel Gahleh prison
His Service Duty ended and reappointed to Cultural Burea in Mashhad
1965
Transferred to Tehran as an expert to examine text books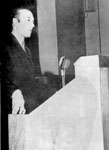 1966
Assistant Professor in History in Mashhad University
1968
Began his lecture series at Hosseiniyeh Ershad and other universities
Published "Islamology" - collected works 30 from flight to death lectured in Mashhad
1971
His fourth child - Mona - was borned
1972
Hosseiniyeh Ershad was shut down and he got banned to lecture
1973
Turned himself in to Savak (Secret Intelligence Police) and spent 18 months in solitary prison
1975
Banned from any political activity
Spent his tough silent months in Tehran and Mashad
1977
Immigrated to Europe, and passed away in England (Martyred)